Prolactin and autoimmunity in silicone mammoplasty*
Валерий Золотых

St. Petersburg State University, 7–9, Universitetskaya nab., St. Petersburg, 199034, Russian Federation

Сергей Лапин

Pavlov First Saint Petersburg State Medical University, 6–8, ul. L'va Tolstogo, St. Petersburg, 197022, Russian Federation

Антон Гвоздецкий

St. Petersburg State University, 7–9, Universitetskaya nab., St. Petersburg, 199034, Russian Federation

Анна Ким

St. Petersburg State University, 7–9, Universitetskaya nab., St. Petersburg, 199034, Russian Federation

Тимур Джуматов

St. Petersburg State University, 7–9, Universitetskaya nab., St. Petersburg, 199034, Russian Federation

София Шаабани

St. Petersburg State University, 7–9, Universitetskaya nab., St. Petersburg, 199034, Russian Federation

https://orcid.org/0000-0001-8472-8557

Екатерина Старовойтова

St. Petersburg State University, 7–9, Universitetskaya nab., St. Petersburg, 199034, Russian Federation

https://orcid.org/0000-0002-7240-5010

Лия Михайлова

St. Petersburg State University, 7–9, Universitetskaya nab., St. Petersburg, 199034, Russian Federation ; Pavlov First St. Petersburg State Medical University, 6–8, L'va Tolstogo ul., St. Petersburg, 197022, Russian Federation

Маргарита Вишнепольская

St. Petersburg State University, 7–9, Universitetskaya nab., St. Petersburg, 199034, Russian Federation

Леонид Чурилов

St. Petersburg State University, 7–9, Universitetskaya nab., St. Petersburg, 199034, Russian Federation ;St. Petersburg Research Institute of Phthisiopulmonology, Health Ministry of Russia, 2–4, Ligovskiy pr., St. Petersburg, 191036, Russian Federation

Петр Яблонский

St. Petersburg State University, 7–9, Universitetskaya nab., St. Petersburg, 199034, Russian Federation ;St. Petersburg Research Institute of Phthisiopulmonology, Health Ministry of Russia, 2–4, Ligovskiy pr., St. Petersburg, 191036, Russian Federation
Аннотация
The article is devoted to the study of the effect of silicone as an adjuvant on the development of autoimmune complications of mammoplasty and the development of autoimmune syndrome induced by adjuvants "ASIA". This controlled cohort prospective non-randomized research is based on analysis of clinical observations of 121 patients undergoing plastic surgery on the mammary glands for aesthetic purposes, as well for reconstructive and oncological indications, both with and without silicone implants. To obtain preliminary results and evaluate the study, 27 blood serum samples were randomly selected, in which the dynamics of prolactin levels and autoantibody profiles towards 7 common autoantigens were studied before and after 3 and 6 months post-surgery. It was found that 5 out of 27 patients after mammoplasty showed an increase in 2 types of autoantibodies (against modified citrullinated vimentin and annexin V). Patient in need for mammoplasty have increased serum levels of prolactin at the day of operation. After surgery on the mammary gland, the level of prolactin decreases to normal range within 3 months, even if it was significantly higher than normal before surgery. Both of these facts require additional research and analysis on a wider cohorts of patients.
Скачивания
Данные скачивания пока недоступны.
Литература

References
Shoenfeld Y., Agmon-Levin N. 'ASIA' — autoimmune/inflammatory syndrome induced by adjuvants.J. Autoimmun., 2011, vol. 36, pp. 4–8.
Shoenfeld Y. Autoimmune (autoinflammatory) syndrome induced by adjuvants provides a diagnostic framework for enigmatic conditions. The Rheumatologist, 2011, vol. 6, no. 6, pp. 26–32.
Coroneos C.J., Selber J.C., Offodile A.C., Butler C.E., Clemens M.W. US FDA Breast Implant Postapproval Studies. Long-term Outcomes in 99,993 Patients. Annals of Surgery, 2019, vol. 269, no. 1,pp. 30–36.
Watad A., Rosenberg V., Tiosano S. et al. Silicone breast implants and the risk of autoimmune/rheumatic disorders: a real-world analysis. Int. J. Epidemiol., 2018, vol. 47, no. 6, pp. 1846–1854.
Sanchez-Guerrero J., Colditz G.A., Karlson E.W., Hunter D.J., Speizer F.E., Liang M.H. Silicone breast implants and the risk of connective tissue diseases and symptoms. N. Engl. J. Med., 1995, vol. 332,pp. 1666–1670.
Shelly S., Boaz M., Orbach H. Prolactin and autoimmunity. Autoimmunity Reviews, 2012, vol. 11 (6–7), pp. a465–a470.
Zolotykh V.G., Kim A.Y., Shoenfeld Y., Churilov L.P. Galactorrhea Following Silicone Breast Implant Placement. Isr. Med. Assoc. J., 2019, vol. 21, no. 8, p. 523.
Christensen R.H.B. Ordinal—Regression Models for Ordinal Data. R. package version, 2019, pp. 4–25.
R Core Team. R: A language and environment for statistical computing.
R Foundation for Statistical Computing,
Vienna, Austria, 2019. Available at:
https://www.R-project.org/
(accessed: 20.01.2019).
Assies J., Vingerhoets A.J.J.M., Poppelaars K. Psychosocial aspects of hyperprolactinemia. Psychoneuroendocrinology, 1992, vol. 17, no 6, pp. 673–679.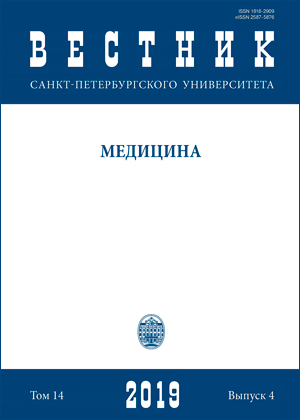 Как цитировать
Золотых, В., Лапин, С., Гвоздецкий, А., Ким, А., Джуматов, Т., Шаабани , С., Старовойтова, Е., Михайлова , Л., Вишнепольская, М., Чурилов, Л., & Яблонский, П. (2020). Prolactin and autoimmunity in silicone mammoplasty*. Вестник Санкт-Петербургского университета. Медицина, 14(4), 388–393. https://doi.org/10.21638/spbu11.2019.434
Статьи журнала «Вестник Санкт-Петербургского университета. Медицина» находятся в открытом доступе и распространяются в соответствии с условиями Лицензионного Договора с Санкт-Петербургским государственным университетом, который бесплатно предоставляет авторам неограниченное распространение и самостоятельное архивирование.