К ВОПРОСУ О КОГНИТИВНЫХ НАРУШЕНИЯХ ПРИ УПОТРЕБЛЕНИИ АЛКОГОЛЯ
Uladzimir I. Pikirenia

Белорусский государственный медицинский университет, Республика Беларусь, 220116, Минск, пр. Дзержинского, 83

Ilya A. Fedotov

Рязанский государственный медицинский университет им. академика И. П. Павлова, Российская Федерация, 390026, Рязань, ул. Высоковольтная, 9

Olga D. Tuchina

Российский университет дружбы народов, Российская Федерация, 117198, Москва, ул. Миклухо-Маклая, 6

Andrei U. Kapytau

Белорусский государственный медицинский университет, Республика Беларусь, 220116, Минск, пр. Дзержинского, 83
Аннотация
Употребление алкоголя вызывает значительные изменения когнитивного функционирования. Эти эффекты связаны с влиянием как этанола, так и его первого метаболита ацетальдегида на нейромедиаторные системы головного мозга. При длительном злоупотреблении может возникнуть синдром исполнительского дефицита, проявляющийся эмоциональными, поведенческими и когнитивными симптомами. Также алкоголь имеет специфическое дозозависимое влияние на функцию памяти в виде блокирования консолидации воспоминаний, т. е. перехода ее из кратковременной в долговременную. Это проявляется либо обратимыми амнезиями периода алкогольного опьянения (блэкаутами), либо необратимой фиксационной амнезией в рамках синдрома Корсакова. Библиогр. 34 назв.
Ключевые слова:
когнитивные функции, алкоголь, амнезии, блэкауты, синдром исполнительского дефицита
Скачивания
Данные скачивания пока недоступны.
Литература

References
Concise Dictionary of Modern Medicine. Ed. by J. C. Segen. McGraw-Hill, 2006, 765 p.
Human intelligence.Encyclopedia Britannica online. Available at:http://www.britannica.com/topic/human-intelligence-psychology (accessed: 02.12.2015).
Deng X., Deitrich R. A. Putative role of brain acetaldehyde in ethanol addiction. Current drug abuse reviews, 2008, no. 1 (1), pp. 3–8.
Hahn C.-Y., Huang S. Y., Ko H. C., Hsieh C. H., Lee I. H., Yeh T. L., Yang Y. K., Lee J. F., Lin W. W.,
Lu R. B. Acetaldehyde involvement in positive and negative alcohol expectancies in han Chinese persons with alcoholism. Archives of general psychiatry, 2006, no. 7 (63), pp. 817–823.
Quertemont E., Didone V. Role of acetaldehyde in mediating the pharmacological and behavioral effects of alcohol. Alcohol research & health : the journal of the National Institute on Alcohol Abuse and Alcoholism, 2006, no. 4 (29), pp. 258–265.
Rodd Z. A., Bell R. L., Zhang Y., Murphy J. M., Goldstein A., Zaffaroni A., Li T. K., McBride W. J. Regional heterogeneity for the intracranial self-administration of ethanol and acetaldehyde within the ventral tegmental area of alcohol-preferring (P) rats: involvement of dopamine and serotonin. Neuropsychopharmacology: official publication of the American College of Neuropsychopharmacology, 2005, no. 2 (30),pp. 330–338.
Eriksson C. J. Acetaldehyde metabolism in vivo during ethanol oxidation. Advances in experimental medicine and biology, 1977, no. 85A, pp. 319–341.
Lindros K. O., Hillbom M. E. Acetaldehyde in cerebrospinal fluid: its near-absence in ethanol-intoxicated alcoholics. Medical biology, 1979, no. 4 (57), pp. 246–247.
Stowell A., Hillbom M., Salaspuro M., Lindros K. O. Low acetaldehyde levels in blood, breath and
cerebrospinal fluid of intoxicated humans as assayed by improved methods. Advances in experimental medicine and biology, 1980, no. 132, pp. 635–645.
Tabakoff B., Anderson R. A., Ritzmann R. F. Brain acetaldehyde after ethanol administration. Biochemical pharmacology, 1976, no. 11 (25), pp. 1305–1309.
Jamal M., Ameno K., Uekita I., Kumihashi M., Wang W., Ijiri I. Catalase mediates acetaldehyde formation in the striatum of free-moving rats. Neurotoxicology, 2007, no. 6 (28), pp. 1245–1248.
Zimatkin S. M., Pronko S. P., Vasiliou V., Gonzalez F. J., Deitrich R. A. Enzymatic mechanisms of ethanol oxidation in the brain. Alcoholism: clinical and experimental research, 2006, no. 30 (9), pp. 1500–1505.
Zimatkin S. M., Liopo A. V., Deitrich R. A. Distribution and kinetics of ethanol metabolism in rat
brain. Alcoholism: clinical and experimental research, 1998, no. 22 (8), pp. 1623–1627.
Quertemont E., Tambour S. Is ethanol a pro-drug? The role of acetaldehyde in the central effects of ethanol. Trends in pharmacological sciences, 2004, no. 3 (25), pp. 130–134.
Peterson J. B., Rothfleisch J., Zelazo P. D., Pihl R. O. Acute alcohol intoxication and cognitive functioning. Journal of studies on alcohol, 1990, no. 2 (51), pp. 114–122.
Shustov D. I., Agibalova T. V., Fedotov I. A. Obratnaia storona alkogol'noi zavisimosti: abstinenty i spontannye remissii [Reverse side of alcohol addiction: abstainers and natural recovery]. Voprosy narkologii 2014, no. 5, pp. 141–161. (In Russian)
Britton A., Singh-Manoux A., Marmot M. Alcohol consumption and cognitive function in the
Whitehall II Study. American journal of epidemiology, 2004, no. 3 (160), pp. 240–247.
Bates M. E., Voelbel G. T., Buckman J. F., Labouvie E. W., Barry D. Short-term neuropsychological
recovery in clients with substance use disorders. Alcoholism, clinical and experimental research, 2005,no. 3 (29), pp. 367–377.
Ihara H., Berrios G. E., London M. Group and case study of the dysexecutive syndrome in alcoholism without amnesia. Journal of neurology, neurosurgery, and psychiatry, 2000, no. 6 (68), pp. 731–737.
Burgess P. W., Simons J. S. Theories of frontal lobe executive function: clinical applications. Oxford, Oxford University Press, 2005, 231 p.
Lehto J. E., Juujärvi P., Kooistra L., Pulkkinen L. Dimensions of executive functioning: Evidence
from children. British Journal of Developmental Psychology, 2003, no. 1 (21), pp. 59–80.
Collins A., Koechlin E. Reasoning, learning, and creativity: frontal lobe function and human decision-making. PLoS biology, 2012, no. 3 (10), pp. e1001293.
Baddeley A., Sala S. Della Working memory and executive control. Philosophical transactions of the Royal Society of London. Series B, Biological sciences, 1996, no. 1346 (351), pp. 1397–1404.
Vabret F., Lannuzel C., Cabe N., Ritz L., Boudehent C., Eustache F., Pitel A. L., Beaunieux H. Alcohol-related neuropsychological impairments: Nature, impact and detection. Paris, Presse medicale, 2016.
Baddeley A., Wilson B. Frontal amnesia and the dysexecutive syndrome. Brain and cognition, 1988,no 2 (7), pp. 212–230.
Bernardin F., Maheut-Bosser A., Paille F. Cognitive impairments in alcohol-dependent subjects.
Frontiers in Psychiatry, 2014, no. 78 (5), pp. 1–6.
Kazdin A. E. Encyclopedia of Psychology. Oxford, Oxford University Press, 2000, 4160 p.
Memory. The Stanford Encyclopedia of Philosophy online. Available at: https://plato.stanford.edu/entries/memory (accessed: 02.12.2016).
Atkinson R. C., Shiffrin R. M. Human memory: A proposed system and its control processes. Psychology of learning and motivation. Ed. by K. W. S. Spence. Academic Press, 1968, pp. 89–195.
Wetherill R. R., Fromme K. Alcohol-induced blackouts: a review of recent clinical research with
practical implications and recommendations for future studies. Alcoholism: Clinical and Experimental Research,2016, no. 40 (5), pp. 922–935.
White A. M., Best P. Effects of ethanol on hippocampal place-cell and interneuron activity. Brain Research, 2000, no. 876, pp. 154–165.
White A. M., Signer M. L., Kraus C. L., Swartzwelder H. S. Experiential aspects of alcohol-induced
blackouts among college students. Am. J. Drug and Alcoh. Abuse, 2004, no. 1, pp. 205–224.
Ryaback R. The continuum and specificity of the effects of alcohol on memory. Quarterly Journal of Studies on Alcohol, 1971, no. 32, pp. 995–1016.
Zhang Y., Yu H., Li W., Yang Y., Wang X., Qian Z. Effect of acute ethanol administration on the
hippocampal region neural activity using a microelectrode array. Alcoholism: Clinical and Experimental
Research, 2016, no. 40 (9), pp. 1857–1864.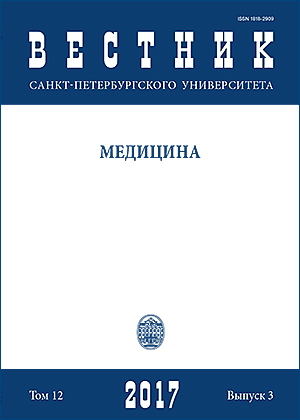 Как цитировать
Pikirenia, U. I., Fedotov, I. A., Tuchina, O. D., & Kapytau, A. U. (2017). К ВОПРОСУ О КОГНИТИВНЫХ НАРУШЕНИЯХ ПРИ УПОТРЕБЛЕНИИ АЛКОГОЛЯ. Вестник Санкт-Петербургского университета. Медицина, 12(3), 266–272. https://doi.org/10.21638/11701/spbu11.2017.306
Раздел
Неврология. Нейрохирургия. Психиатрия
Статьи журнала «Вестник Санкт-Петербургского университета. Медицина» находятся в открытом доступе и распространяются в соответствии с условиями Лицензионного Договора с Санкт-Петербургским государственным университетом, который бесплатно предоставляет авторам неограниченное распространение и самостоятельное архивирование.