Bioavailability Study of Recombinant Plasmid DNA Nerve Growth Factor after Intramuscular Injection by Electroporation
Viktor V. Shilov

North-Western State Medical University named after I. I. Mechnikov, 47, Piskarevskii pr., St. Petersburg, 195067, Russian Federation;North-West Public Health Research Center Rights Protection and Human Wellbeing, 4, 2-ya Sovetskaya ul., 191036, St. Petersburg, Russian Federation

Mikhail A. Yudin

North-Western State Medical University named after I. I. Mechnikov, 47, Piskarevskii pr., St. Petersburg, 195067, Russian Federation;Federal State Budgetary Institution "State Research Testing Institute of Military Medicine" of the Ministry of Defense of Russian Federation, 4, Lesoparkovaya ul., St. Petersburg, 195043, Russian Federation

Nikolai G. Vengerovich

Saint Petersburg State Chemical Pharmaceutical Academy (SPCPA), 14a, ul. Professora Popova, St. Petersburg, 197376, Russian Federation ; Federal State Budgetary Institution "State Research Testing Institute of Military Medicine" of the Ministry of Defense of Russian Federation, 4, Lesoparkovaya ul., St. Petersburg, 195043, Russian Federation

Taras V. Shcherbakov

North-West Public Health Research Center Rights Protection and Human Wellbeing, 4, 2-ya Sovetskaya ul., 191036, St. Petersburg, Russian Federation

Aleksandra S. Bogacheva

North-Western State Medical University named after I. I. Mechnikov, 47, Piskarevskii pr., St. Petersburg, 195067, Russian Federation
Аннотация
Comparative analysis of plasmid DNA delivery into cells efficiency (with effective agent concentration 250 μg/kg), ensuring accumulation of nerve growth factor (NGF) after intramuscular injection and intramuscular administration using electroporation method on rats was performed. Application of electroporation method ensured over 4 times increase of DNA plasmid concentration in muscle tissue within the first hour after its injection and increased the duration of its determination. Higher bioavailability parameters were confirmed by 3 times increase in gene expression level, encoding NGF accumulation and 3 times increase in concentration of the target NGF protein in blood plasma. The results obtained allow us to recommend this method for introduction of NGF plDNA in its biological activity and effectiveness in models of nerve damage investigation.
Скачивания
Данные скачивания пока недоступны.
Литература

References
Chen J. Functional MRI of brain physiology in aging and regenerative diseases. Neuroimage, 2018, no.1, pp. 1–17.
Besser L., Mock C., Teylan M. Differences in cognitive impairment in primary age-related Tauopathy versus Alzheimer Disease. J. of Neuropathology, 2019, no. 1, pp. 1–10.
Shu L., Zhay Y., Sun Q. A comprehensive analysis in population differences in LRRK2 variant distribution in Parkinson's Disease. Front. Aging Neurosci., 2019, vol. 11, pp. 1–11.
Rajabally Y., Afzal S. Clinical and economic comparison of an individualised immunoglobulin protocol vs. standard dosing for chronic inflammatory demyelinating polyneuropathy. J. of Neurology, 2019, vol. 266, no. 2, pp. 10–17
Chepur S. V. Delayed organophosphorus neuropathies: prevention and treatment. Toxicological Vestn.,2010, no. 3, pp. 42–43.
Dalakas M. C. Pathogenesis of immune-mediated neuropathies. Biochim. Biophys. Acta, 2015,vol. 1852, no. 4, pp. 658–666.
Sung K., Yang W., Wu, C. Uncoupling neurotrophic function from nociception of nerve growth factor:what can be learned from a rare human disease? Neural. Regen. Res., 2019, vol. 14, no. 4, pp. 1–14.
Tuszynski M. H., Yang J. H., Barba D. et al. Nerve Growth Factor Gene Therapy: Activation of Neuronal Responses in Alzheimer Disease. JAMA Neurol, 2015, vol. 72, no. 10, pp. 1139–1147.
Du J., Chen H., Qing L. Biomimetic neural scaffolds: a crucial step towards optimal peripheral nerve regeneration. Biometr. Sci., 2018, vol. 6, pp. 1299–1311.
Voronova A.D., Stepanova O.V., Chadin A.V. et al. The Cell Therapy in Traumatic Spinal Cord Injury. Vestn. Ross. Akad. Med. Nauk, 2016, vol. 71, no. 6, pp. 420–426.
Wong A.W., Yeung J., Payne S.C. et al. Neurite outgrowth in normal and injured primary sensory neurons reveals different regulation by nerve growth factor (NGF) and artemin. Mol. Cell Neurosci., 2015, vol. 65, pp. 125–134.
Ruzgus P., Jakutaviciate M., Chopra S. Enhancement of drug electrotransfer by extracellular plasmid DNA. Arch. Biochem. Biophys., 2018, pp. 1–5.
Nikolaev S.G. Workshop on Clinical Electromyography: Second Edition, revised and updated. Ivanovo:Ivan. State medical academy,2003, 264 p.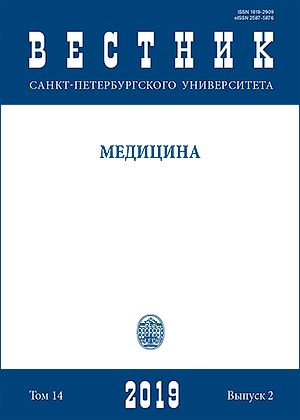 Как цитировать
Shilov, V. V., Yudin, M. A., Vengerovich, N. G., Shcherbakov, T. V., & Bogacheva, A. S. (2019). Bioavailability Study of Recombinant Plasmid DNA Nerve Growth Factor after Intramuscular Injection by Electroporation. Вестник Санкт-Петербургского университета. Медицина, 14(2), 89–97. https://doi.org/10.21638/spbu11.2019.201
Раздел
Внутренние болезни
Статьи журнала «Вестник Санкт-Петербургского университета. Медицина» находятся в открытом доступе и распространяются в соответствии с условиями Лицензионного Договора с Санкт-Петербургским государственным университетом, который бесплатно предоставляет авторам неограниченное распространение и самостоятельное архивирование.